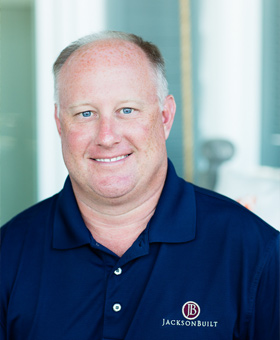 ---
Richard Jackson
Owner & President
Move-in Music to His Ears: "I'm so glad we decided to build."
Mark of Merit: Past-President and current Board Member of the Charleston Home Builders Association, Member of East Cooper Habitat for Humanity Board of Directors
"After twelve years of working for a large builder, I'd banked a solid catalog of must-haves, and must-dos, and must-nots. From the beginning, I knew we could do things differently, and separate ourselves from everyone else."
There's something inherently admirable about a gutsy move. It points to self-confidence, drive, and intuition. Richard Jackson took a bold leap at what some would consider a risky time. It was 2008, homebuilding was still clawing its way out of the recession, and he was signing off from over a decade of tremendous success with one of the region's top builders to set up his own custom residential outfit. But he also happened to have an arsenal of practice and proficiency behind the gamble.
"There are only so many ways you can be different in homebuilding. For us, being truly present – always onsite, fully engaged, unfailingly available – is the best way to set us apart."
While other builders were playing it safe with cookie-cutter templates or leaving the market altogether, Richard shifted the whole paradigm. He began to level the concept of constructing a house from a template in favor of building a home from a vision. It was an approach that particularly resonated with fellow small business owners, several of whom would come to be JacksonBuilt Custom Homes' first clients. And in fairly short order, word rolled across the Lowcountry that this small company was a hidden gem in the industry. This was how homebuilding should have been done all along.
"How do you want it to live?"
Subscribing to the theory that a home is like a jewel box, JacksonBuilt Custom Homes aims to build a charming dwelling, make every square foot of it useful, and put the finest finishes inside. Determining "practical square footage" may sound a little less poetic, but it's the blueprint for that jewel box. By getting to the heart of the way a homeowner lives – from practical logistics to domestic and social habits – Richard blends the pragmatic with the inspirational to create the kind of home where every room is loved and lived in.
"We help clients rethink their space."
JacksonBuilt has always taken a team approach, believing that the most cohesive design results when the client, builder, and architect are all hands on deck from the beginning. Richard and his team are extremely adept at designing for everyday life, from cabinet configuration to placement of doors to how far the shrimp boil needs to travel from the stovetop to the back patio. When it comes to creating a flow so easy it hardly gets noticed, JacksonBuilt nails it every time.
"The experience is critical. Building the house is the easy part; helping the client through the process is a challenge that can't be overstated or ever overlooked, because it's such an emotional purchase."
To be clear, Richard Jackson has spot-on vision and is enviably well-connected with architects, trades, and vendors. But it is perhaps his finesse with personalities, deadlines, and budgets that sets the JacksonBuilt experience apart from others. He is obsessively accessible, and two steps ahead more often than not. No issue is too big or too small; anxious families depend on him for that very breadth of expertise. In the end, even before his clients marvel at how beautiful their new home is (and they will), Richard listens for them to rave about the process of getting there.