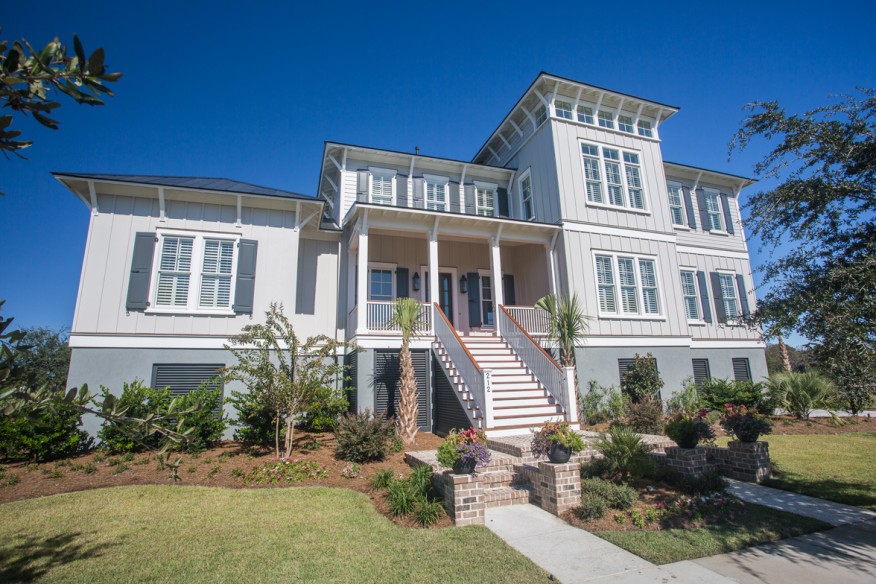 A custom home in Daniel Island Park infused with personalized details and custom cabinetry is deftly executed by JacksonBuilt.
By virtue of its placement on a graceful curve of the road — and its eye-catching tower — Randy and Sharon Parker's new home is a striking addition to this lovely section of Daniel Island Park. The home's exterior has a feast of architectural details, beginning with the tower feature encircled by a clerestory.  Varying rooflines to the right and left offset the verticality, as does the multi-leveled brick porch approach. Exterior treatments blend board and batten, traditional siding, and shuttering, while repeat placement of decorative brackets along the soffits provide continuity.
"The tower lent our home such an interesting and different look," said homeowner Sharon Parker. "It works just as well from the inside," she says of the double-height tower room on the home's second floor. The light-filled room serves as a casual living room perfect for the family's grandchildren to play games or for a quiet escape with a book and a cup of tea.
The home's interior also enjoys a generous share of design detailing throughout. A blend of customized cabinetry is featured creatively in a number of rooms throughout the home. The open plan living room has painted shiplap paneling over which is placed a built-in television and storage wall unit. The adjoining dining room has two shallow floor-to-ceiling cupboards flanking a door that accesses the porch. Steps away, kitchen cabinetry in two finishes continues into a combination bar, pantry, and office space with loads of storage.
Even in rooms tucked far from the public spaces, the clients invested in differing tiling, cabinetry and surface choices in each of the four bathrooms and laundry room to bring in coordinating colors and textures. Like all creative projects, sometimes a bit of good luck comes into play. The kitchen benefited from a serendipitous choice found at a local supplier to surface the island. The focal piece, a granite entitled "Stormy Ocean" was a splurge that, surprisingly, had in it a touch of every one of the colors of sky, sand and earth that were already selected for the home.
"That piece really is nature's art," says Sharon Parker. "We both simply fell in love with it, and were sure it was a completely perfect choice for our house."
---