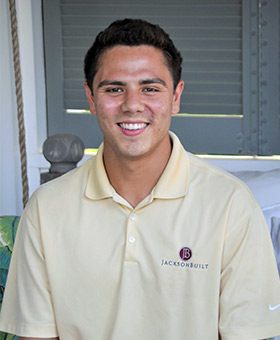 ---
Charlie Salzer
Project Manager
Move-in Music to His Ears: "I love the attention to every small detail in the house – especially during the actual build."
Mark of Merit: Has been working in homebuilding since junior high (really!) and began running job sites as a junior at the College of Charleston.
"My father taught me everything I needed to know to be where I am today, and I am forever grateful. That said, I am young and eager to continue learning and building my knowledge with a company like JacksonBuilt."
Answering a call is profoundly rewarding. Discovering a passion is incredibly fulfilling. And when the two coincide? It is rare and kind of magical. Charlie's father founded and captained an esteemed residential construction company in Charlotte, North Carolina. Under the patient and skilled tutelage of his dad, Charlie grew from a sideline observer to an active learner to an unofficial apprentice on job sites at every stage. For all of his teen years, he was equal parts student and employee of construction trades and project management, continuing through his study of business and finance at the College of Charleston. Charlie would earn that degree, but not before losing his father to cancer and taking the helm of the family business. He found, however, that stepping up to see those builds through to completion was more than an obligation – it was an honor, a joy, and a confirmation that homebuilding was exactly where he wanted to be.
"JacksonBuilt found me in an interesting way; I would have to say they came into my life at just the right time."
Years ago, it would have been impossible for Charlie to imagine working for another construction company. Beyond loyalty and affection, there was an acknowledgment that his father's outfit offered something truly special to its clients, and it seemed unmatchable and inimitable. But through a chance connection – a longtime friend who happened to be a JacksonBuilt client – Charlie found the same spirit in another family builder. He cultivated a relationship with the Jacksons that would prove as comfortable as it was symbiotic, and they offered him the opportunity to learn, shadow and, eventually, join the team.
"The three traits key to project management are remarkable time management, hardworking drive, and always being up for a change."
In homebuilding, no two days are alike. It's the nature of the beast. But Charlie embraces this with his unmatched work ethic and patience, knowing that it is the only way to get it right for a new JacksonBuilt homeowner.