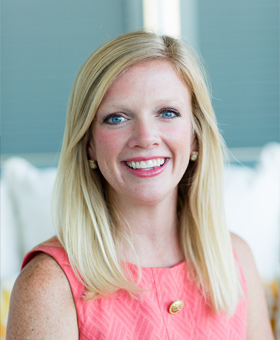 ---
Allison Casper
Director of Design
Move-in Music to Her Ears: "I can't believe this is my house."
Mark of Merit: Graduate of Fashion and Design Program at University of South Carolina
"I'm accepting of every type of design. But I will always give my opinion."
Allison Casper's classroom training is rooted in artful design. Her hands-on experience is steeped in expert appointment of interior fixtures and finishes. Together, her eye for the beautiful and hand at the well-crafted makes her a force to be reckoned with. Fortunately, she is on your side. From architectural sketches to appliance selection and color palette to construction process, Allison navigates every step alongside her clients with a strategy of "total home design." Within any design genre, Allison is able to wrangle every element to create something that is undeniably tasteful, cohesive, and reflective of the homeowner's personality.
"The nature of a truly custom home is that 'the world is your oyster.'"
It would be easy enough to give clients four options for bath tile. But a limited catalog of preselected options does not make a dream home. Allison prefers to cast a wider net. Thankfully, she is also an exceptional listener, reading clients with almost a sixth sense, and in short order is able to narrow any pool of options from an overwhelming abyss to a perfectly-tailored sample collection. Understanding that pressure occasionally breeds panic, and that some days lend themselves to decision-making better than others, Allison employs a wealth of patience, welcoming an extra day or additional meeting to get every selection on point, in budget, and at ease.
"Where I've sensed clients are ready for a change, they have thanked me for nudging them out of their comfort zones."
Some homeowners are fearful of committing to a certain style, so they'll retreat to what is safe. Allison imparts courage on her clients to break out of the box or overcome an urge to conform. Her intuition may guide one toward a bolder color, another to a conversation-piece chandelier, and still another on the path of an interesting tile pattern. In the end, every single homeowner is situated in a space that they truly enjoy.
"Our goal is really pretty simple- for the client to be truly happy in a home that has their beautiful, unmistakable signature on it."
Whether it commends the coast or curves toward contemporary, every JacksonBuilt residence comes together with the same uncompromising elements: fierce design vision, thoughtful attention to budget, and a commitment to honoring the way the homeowner will live within its walls. Ushered by the improv design-genius that has become so characteristically Allison, the result will be a custom home, to be sure, but it will have been interpreted so skillfully that it is positively JacksonBuilt and fits seamlessly into the community around it. The mission is absolutely about making good on a promise to put clients in the homes they envision. And for Allison, after painting swatches in high heels or balancing atop a ladder with a light to demonstrate more accurate illumination, the soul of each home and the imprint of each homeowner are with her forever.