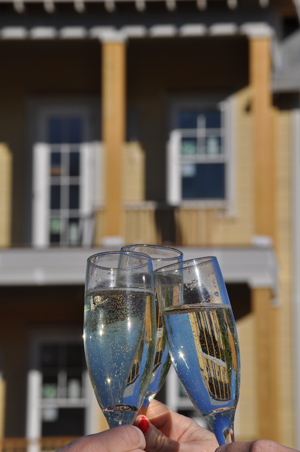 We'd like to make a toast!
To our JacksonBuilt families: Thank you from the bottom of our hearts. We hope you are loving your homes every single day, just as we loved building them with you.
To our current clients: We are so grateful that you are entrusting this process to us, and are filled with excitement as we take small steps and giant leaps toward your moving day.
To our future homeowners: We can't wait to meet you and learn about your vision of the perfect place to call home.
To our amazing trades and contractors: Thank you for your hard work each and every day to make these dream homes a reality. We are so grateful to have you on our team.
And last, but certainly not least, to beautiful Charleston: There is no place on earth we would rather build homes. Thank you for the gorgeous landscape into which we are rooting lives, friendships, and legacies.
While we have been busy building homes, we have also been hard at work building our new home on the web! And so, we raise our glasses, and our new website, in celebration of the proud past, remarkable present and skies-the-limit future of JacksonBuilt Custom Homes.
As we get back to the work we love – building extraordinary Lowcountry homes – we will maintain a "new, now, next" presence right here, with social media updates, key industry news, exciting trends, and JacksonBuilt's community connection. Keep a close eye on these pages- we don't want you to miss a thing!
CHEERS!
---