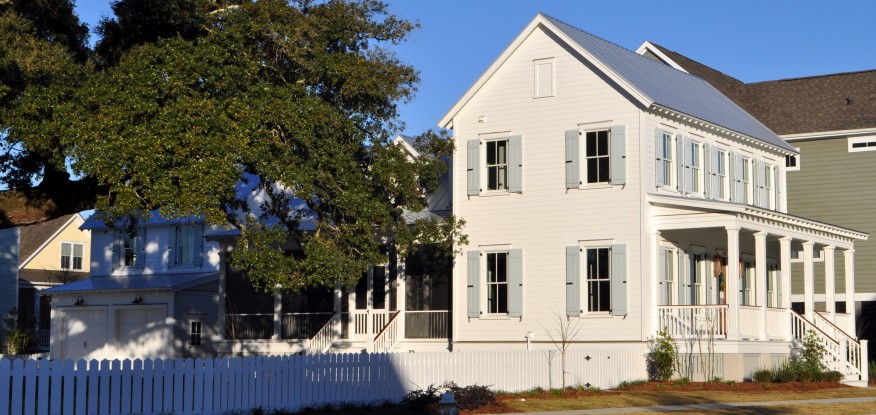 "The lot had amazing potential and was handled brilliantly by residential designer Phil Clarke," says Allison Casper, JacksonBuilt's Director of Design, who worked closely with Noell and Susan Smith to create their dream home. The house is oriented to pay homage to the tremendous live oak tree in the yard where a generous side porch acts as the exterior joinery between the interior dining room, kitchen, and great room. The Smith's many imaginative design decisions were inspired by the idea of an old farmhouse sheltered by the arms of a grand tree. The vision was a blend of the farmhouses Susan knew in her hometown of Georgetown, South Carolina, and of Noell's love for an old plantation-style home.
Interior detailing and trim work were seen as an ever-present opportunity to provide the home with the lived-in, accumulated feel of a family homestead. The star of the front entry is an impressive, antique newel post originally from a historic home in North Carolina. Steps away, a dedicated music room is paneled with wormy chestnut boards salvaged from Noell's family home post Hurricane Hugo. Two antique windows were framed into one wall to create the airy feel of an add-on porch that then looks into the adjoining dining room. Other custom spaces make use of reading nooks, built-in bench seating, and vintage lighting to create areas of interest and surprise.
"These special touches are what fires our creativity in building new homes," says JacksonBuilt's Richard Jackson, who lead the build and worked side-by-side with the Smiths to integrate their creative details into the home. In all, the project shows how having a team approach can maximize the potential of new-build design choices to yield a home that becomes much greater than the mere sum of its parts.
---