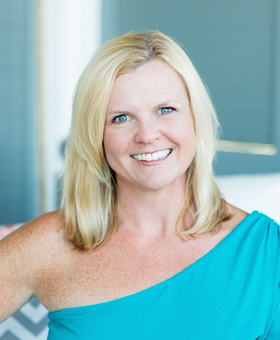 ---
Kimberly Jackson
Marketing & Business Development
Move-in Music to Her Ears: "We can't wait to entertain family and friends in our new home!"
Mark of Merit: Licensed Realtor
"Each individual house is important to us; we take it very personally."
Kimberly, Richard, and their two daughters live on Daniel Island, situated among the many custom homes they've designed and constructed. Hardly a day goes by that they don't run into JacksonBuilt homeowners, and Kimberly wouldn't have it any other way. (And not just because she is a social butterfly… which she is, in the sweetest Southern way.) She is tickled to hear how clients have settled in, acclimated to a new neighborhood, shared with visitors the home they created from the ground up. But to those homeowners, JacksonBuilt's presence in the community is indicative of a spirit of confidence, connectedness, and contentment. Kimberly is thrilled to acknowledge that the family business relies on word of mouth, because an extension of family is just what their clients inevitably become.
"I wouldn't trade all of our hard work for the world, because we absolutely love what we do."
The Jacksons themselves could hardly anticipate the tremendous, steady growth with which their custom building outfit has been blessed in just a few short years. It has necessitated a leap of faith, a shift in workday paradigm, a move from a home office to leased office space and, for Kimberly, a transition from design consultant to behind-the-scenes jack-of-all-trades. But at every turn, JacksonBuilt is consistently pushing the envelope, pushing the company in a forward direction, looking for what else, what's next, how to change, how to improve. It is that reach for the notch above that is the hallmark of JacksonBuilt's stride.
"At the end of a busy day, the best unwind is on my front porch swing with good music on my stereo, champagne in my glass and, with any luck, a neighborhood friend dropping by."
Today, Kimberly wears many hats at JacksonBuilt Custom Homes as VP of marketing/accounting/PR/business development – and thank goodness that department is in very capable hands. Having been through the homebuilding process herself, she can also relate to just about any obstacle clients may encounter. But before there was JacksonBuilt, Kimberly spent over a decade working to improve services for children with disabilities and their families. In those capacities, she has developed an extraordinary knack for problem-solving, as well as for keeping it all in perspective and applying a generous dose of her truly medicinal sense of humor.