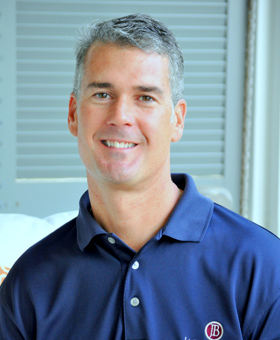 ---
Deniz Evin
Project Manager
Move-in Music to His Ears: "I don't think the novelty or the newness is ever going to wear off."
Mark of Merit: Founded, operated, expanded, and sold an innovative consumer goods company.
"Not only do I get to do what I love doing, but I get to do it in my favorite place."
Deniz was no stranger to the Lowcountry before landing on Daniel Island. He earned a Bachelor of Science in Business Administration at the College of Charleston, and was unwittingly lured to Boston, then to Charlotte, by one of the nation's largest investment banking firms. But the beauty about relocating to Charleston, as any returning native or northern newbie knows, is that it feels like you went on vacation… and then simply never left.
"A typical day is never typical and always presents a whole new set of unique challenges. It is what I love most about my role."
At 6:00 a.m., Deniz is hunkered over a cup of coffee and his laptop, reviewing each project schedule, responding to emails, and fine-tuning the steps of his JacksonBuilt day. As the sun is rising, he begins his rounds in the field, visiting every single home in the build phase. An unlikely pessimist, the project manager is perpetually looking for problems that could result in delays or a less-than-perfect finished product. But, in Deniz' capable (and, yes, ultimately optimist) hands, any snag proves only temporary.
"When we decided to move to Daniel Island, I researched and met with many of the area's top builders, and then narrowed it down further. Initially drawn to JB's reputation and portfolio, I found it was Richard's value of personal relationships that impressed me most."
Being able to differentiate a production-style home from one that is custom built may not require a superpower, but even from an arms length, Deniz detected the superior subtleties that separated JacksonBuilt from other custom builders. They are evident in the approach as much as in the end product. And as luck would have it, his reconnaissance was well-synced with the fierce company growth that demanded a dedicated project manager.
"I've been on the client side of homebuilding so many times that I know what the primary concerns and needs are, and what it means to deliver on promises and find resolution."
Though Deniz' resume is ambitious and robust, what JacksonBuilt clients will find when they meet him may be even more comforting: the familiar face of one who has been in the trenches, lived to tell about it, and is professionally paying it forward. To Deniz, a veteran of the buy/renovate/flip gig, the character traits that most clearly point to a remarkable project manager are simple: exceptional time management, effectual people/personality navigation, and a tandem proactive nature/two-steps-ahead vision. And at the helm of every JacksonBuilt project, he holds these in plain sight.
"A JacksonBuilt home not only looks extraordinary; it encompasses everything that makes a home great, and is extraordinary – from the inside out."
Sure, Deniz understands the undeniable attraction to the exterior of a JacksonBuilt home, with its easy-on-the-eyes blend of coastal clean and country charm. But it's what's underneath and within – what he calls "the systems and bones" – that makes him swoon. There is tremendous reward for a builder who gets to use the best practices, best materials, and best trades in the industry. And whether its over stunning stacked porches or energy efficient attributes, he will never grow tired of hearing clients gush over the details they love… or just seeing them sporting that new-home glow.